Your social media presence can make your organization sink or swim. Developing and executing an effective social media strategy is confounding to many organizations, so they dismiss it as a waste of time, too much effort for little return, background noise, or really not necessary. Or worst case, they do social media so poorly that they turn off their supporters and actually damage their organization. And yet, effectively using social media is the best investment any organization or cause can make.
It is tricky. Being an individual on social media is easier – it's highly personal, which is what makes it successful. Being an organization is harder, because you need to sound personal while still pushing a bigger agenda responsibly. Today I'm going to talk about how to assess your current social media strategy and how to improve the effectiveness of your social media.
Develop a strategy. It's not enough to just do social media, you need to be very intentional.  I wrote a paper on the importance of determining who your audiences are and the best ways to reach your audiences – all with a view to engaging and raising funding. It's a great 'where to start' primer before you dive into reviewing your social media strategy.  One of the key points is recognizing that you have multiple audiences – volunteers, donors, strategic partners, sectors of the public, government – and each one of those audiences needs to be reached and engaged in a different way. Stop and think about your different audiences and then match them up with the best social media. Click here for a great article that breaks down the typical demographics for the different platforms.  Then decide what you are trying to do with each one of your audiences. Attract and retain volunteers? Educate? Raise awareness about your cause? Increase the profile of your organization? Attract strategic partners? Be clear on what you want to accomplish and set benchmarks to measure your success.
Assess your current situation. Look at the demographics and the level of engagement on all of your existing social media platforms, including your website. See if your demographics match the audience you want to engage. You will need to have a different strategy for each of the social media platforms, and you will be reaching a different mix of audiences on each platform. Again, set baseline measurements to track your progress, review your analytics weekly, and pay attention to what has the most shares, retweets, views, comments. It will teach you about what interests your audience, and also, if you really pay attention, can save you a lot of time and money when you develop larger communications campaigns because you already know how to best reach your audience.
ENGAGE! The biggest mistake made in social media by organizations is just pushing information, and not engaging your audience. It's easy to just post a bunch of stuff and think 'it interests me, therefore it should interest everyone else – after all, this is important!' No one else cares about your issue. No one cares what you so earnestly toil away at day after day. No one. Unless you make it a conversation and find out your audience's concerns and address them. As an extreme example, would you really be pushing for pool fences if your audience is in rural Bangladesh? Or asking lifeguards to vote for their favorite brand of swim diaper? And my personal favorite – warning teenagers over and over about how dangerous an activity is and then wondering why they keep pursuing the activity. (clue – teen brains are being rewired, try to remember what it felt like when common sense and reason had taken a 5 year vacation in favor of risk-taking – your warning may have actually encouraged more teens to try the activity).
Think about your audience's day-to-day concerns or joys and engage them on that level. It's tricky to balance the organizational tone and the personal voice you need to succeed in social media, but with practice it can be done, and when done right, you can do it in subliminal ways that shift your audience's way of thinking in a very positive manner. My all-time favorite safety video is 'Dumb Ways To Die'.  The sponsor is talking about train safety, but 65 million people have learned about a number of ways potentially fatal accidents can occur. Kids and teens absolutely love the video – which means they watch and the message goes in. Because, really, if you are going to die you really don't want your friends thinking 'that was a dumb way to die' – how embarrassing! (yes, a teen might think that) Amazing use of leveraging natural peer pressure in a humorous manner – and a very catchy tune.
Which brings us to the next big mistake any organization dealing with public health and safety can make – being all doom and gloom all the time. I'm not suggesting we make light of the issue or be irresponsible. The problem is, if you are always issuing dire warnings and misery, people will stop listening. 'Just say no' has never worked as a strategy.  You can tell people that drowning is a problem, but the majority of your communication needs to be telling people what positive and easy things they can do to keep themselves and their children safe. Water is a magnet for most of us, and it does bring great joy – not only death and destruction. Celebrate the good, the reason we are drawn to water, and provide positive tips on how to be safe – and you'll not just get more followers, you are far more likely to change their behavior around water positively. Think about incorporating the International Open Water Safety Guidelines into your regular messaging.
Fortunately, social media is an ideal medium for pushing those positive soundbites of information repetitively so that people start internalizing the messages and actually change their behavior – which is a big part of social marketing.  Here is a great example of making people in wealthy countries aware of the overwhelming need for clean water in much of the world without making them overwhelmed by the magnitude of the misery. They use the new catch-phrase, first world problems, make it memorable and light but with high visual impact and then provide an easy way to make positive change – in one minute – no droning on…and on….and on….
Soundbites work – in social media and in making people change their behavior.
Develop a strategy for each platform. Now that you know the audiences you want to engage and the best platforms, here are a few tips for Twitter, Facebook and LinkedIn.
Twitter – think coffee shop chit-chat. Share quick soundbites, links to photos or videos, 'of the minute' information. A good rule of thumb – 4 tweets per day, spread across your targeted time zones. Aim for 1/3 each of original content, retweets and @mentions. Start conversations and keep it light and fun. Make good use of hashtags to reach your targeted audience, and think about using #stopdrowning regularly!
Facebook – think hanging out with friends. Start conversations with status updates, especially with photos – 'training in Guatemala today – check out the incredible beach!' or 'heading to the office on a gray day, good thing I have my suit packed for a lunch-time swim' (with photo of gray/rainy day). Snap photos of 'look at this awesome safety message' or 'you have to be kidding me!?!?' for your worst nightmare safety violation. Tag people. Start fun conversations – best beach food, favorite pool games, most awesome surfing beach – and link to your site on Pinterest. And then ENGAGE! Keep the conversation going!
LinkedIn – finally, back to the office. This is where you get to be serious and talk about specific issues. Best place to develop professional relationships and discuss the nuts and bolts of your field – whether it is maintaining a pool to international standards on beach flags to 'what does collaboration really mean' – this is the place. Think about joining the Global Drowning Prevention Forum – the largest and most active LinkedIn Group dedicated to drowning prevention.   And, of course, engage.
Do note, you will have different 'personalities' for each platform – coffee shop/hanging with friends/office. In my most controversial moment to date, I ad-libbed during a recent speech about putting a photo of a stein of German beer and the Conference program on Facebook.  Not the best example, mixing drinking and drowning, but brought on by the fact that every speaker on the main podium discussed German beer, and therefore a great example of the power of that constantly repeated subliminal messaging. It raised some great points about being effective and responsible on social media. My audience on Facebook is only people in the drowning prevention field and I have a long and solid track record of posting responsibly. Posting something about the social aspects of the Conference was appropriate because it made me 'human'. The beer? Eh, probably wouldn't do it again, but then I'm also not renowned as the world's greatest partier so if I did it would be 'inauthentic'. (gotta love those buzzwords) Would I have ever posted something like that on LinkedIn? Or if my audience was primarily mothers or teens? Never in a million years. Not responsible, and just as important, not my 'brand'. (another buzzword and yes, everyone is a brand – think about that next time you post). What I did end up doing was post the photo saying 'should I have done this?' which sparked a long debate about whether it was appropriate or not – something that was worth discussing.
Let me end with an uplifting example from YouTube that Banco Sabadell created to thank their clients and community on an anniversary. That 'Joy' also garnered them over 21 million views – and well deserved, because they spread joy in their local and virtual community. What a positive message, and one also done effectively by the Capitola Junior Lifeguards. Makes me smile and made both my kids want to become Junior Lifeguards – and that's the whole point, isn't it?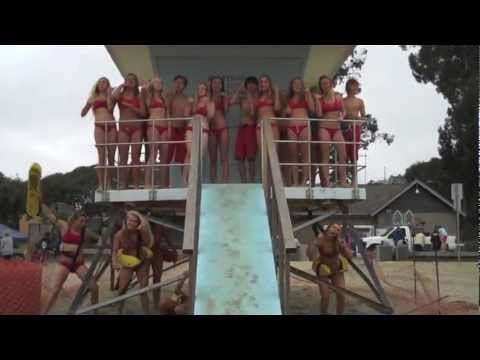 If you think we need to start doing social media right, click here to tweet 'Soundbites work – in social media and in changing behavior. http://bit.ly/1giCTYz @RebeccaSaveKids #stopdrowning'
And a huge thank you to Reese Ben Yaacov who taught me so much about social media!