'Going viral' is the holy grail of social media. That phenomenon when something is picked up and takes on a life of it's own – it hits a chord and people are moved to share, and share, and share. To date, it has only come close once in drowning prevention, and never in video – the most effective 'gone viral' medium.  Today I'm going to talk about how to increase the chance of something going viral – without breaking the bank.
Going viral happens most often with popular culture, most recently the 273+ million views for 'What Does The Fox Say', and most famously with Gangnam style at 1.8 billion views.  Creating viral-worthy public health and safety messages is much harder. I've only seen it happen once.  Everyone works to create content that will at least be watched, but far too often enormous time and money is spent with disappointing results – a lousy return on investment that reinforces the idea that 'social media isn't worth the effort'. I've talked before about it being necessary to be a consistent presence on social media for any organization, and I've talked before about how to do social media well, but it is much harder to create a video that goes viral (because it is always video that gets the biggest audience).
Viral content spreads information faster than any other form of media.
Fortunately, Virgin America just gave us a primer on how to do public safety videos well. So let's watch and learn. Virgin America's new flight safety video has racked up almost 8 million views in 6 weeks.  How they developed the video is informative, and gives us good tips to creating good drowning prevention videos.
The three key points to take away are:
Engage all stakeholders. The flight attendants, the FAA (Federal Aviation Authority) and the Virgin marketing people were all involved to ensure that the video was not just entertaining but also conformed to very rigid established protocols. Imagine if every drowning prevention video incorporated exactly the words from the International Open Water Drowning Prevention Guidelines.   Those words will enter the public's consciousness just as 'remember the nearest exit may be behind you' is in the head of frequent fliers through the sheer repetition of consistent words.
Know your audience. Virgin knows the demographics of their audience and appropriately incorporated a wide range of music and dance that would appeal to that audience. If their primary audience were only over 70, they might have done Frank Sinatra, 50's, or Big Band music. If it were tweenie girls, One Direction or Katy Perry might have been highlighted. Instead they identified the 'typical' customer of Virgin and also engaged their tech-savvy selfie-snapping audience by offering them a chance to appear in a Virgin video. They also riffed on modern culture with electronic cigarettes, cool headphones, and a full array of tech devices.
Education doesn't have to be boring. The public safety field is split on this. Will people understand the message if it's in an entertaining form? Many say no. The flip side, will anyone listen when they have heard the same (boring) safety message over and over? Also, frequently, no. The trick is to mix things up. Notice how some of the key words (FAA required, I believe), were repeated, without music or singing, by Virgin flight attendants. And, of course, on a plane the flight attendants are checking for compliance. Again, Virgin accomplished education and entertainment by engaging all the stakeholders.
Before you get depressed because you don't happen to have a hot Hollywood producer on your speed dial, note that we are not just talking about a YouTube video which might or might not go viral. We are talking about creating a lasting safety message and also distributing the message to a wider audience outside the target audience. The video is being used on every single Virgin America flight, to a captive audience. Virgin clearly decided to invest in something that was going to get regular play that contributes to the Virgin brand, and then use social media as a secondary method of engaging their target and possibly future customers (clearly the demographics of YouTube viewers). The new safety video was announced in a press release which announced that Virgin would be celebrating with 20% off flights for a period of time just after the launch.
The lesson in drowning prevention is don't create something just for YouTube and hope it goes viral. We don't have the resources – people or money. We need video, but it needs to be part of a bigger overall strategy with the secondary audience of YouTube in mind as part of a social media strategy. For instance, one of my favorite videos is posted by the U.S. Coast Guard and Boat California. It's a great video – fast paced, exciting, great role models and it gets high marks from my unofficial in-house focus group of one, my son, who asked to watch it again and said he was more likely to wear a lifejacket after watching. But sadly it has virtually no views – virally speaking.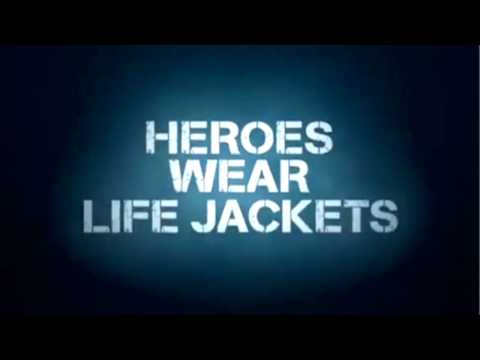 With no knowledge of how or why it was developed, here is what I would suggest as a strategy with the video.
Identify stakeholders – public safety officials, Coast Guard, surf lifeguards, marine rescue organizations, boat manufacturers, and, of course, lifejacket manufacturers.
Work with local networks to identify whether certain amounts of air times has to be dedicated to pro-bono public safety messages (as is the case in the States). Look at the demographics of when your target audience is watching and push hard to have 30 second clip embedded into programming. (for instance, reach men on Saturday and Sunday afternoon during sports programming, identify shows that teen boys watch).
Create tie-ins – work with lifejacket manufacturers, sporting good stores, boat manufacturers – to offer 20% off lifejackets during the 3 weeks following the airing of the spots. Have them show the spot on TV's in their showrooms or use Qcodes to direct smartphones to the YouTube spot. Work with local department of public health and safety and drowning prevention organizations to run the campaign during 'water safety awareness week' and include the spot in education campaigns.
Develop a social media campaign with coupons and directions to participating merchants – drive traffic to them and sell more life jackets and also push the YouTube video.
Find additional uses for the video. I'd use it as a recruiting tool for the Coast Guard, just as I think the Capitola Junior Lifeguard video should be a recruiting video for junior lifeguard programs.
You can't always predict what will go viral, but you can maximize the return on your investment by clearly identifying your audience, including all the possible stakeholders and understanding that popular culture can spread your message far faster than droning on…and on….and on…..
If you think we need to be more creative in spreading safety messages, click here to tweet 'Viral content spreads information faster than any other form of media. @RebeccaSaveKids http://bit.ly/19hEwV4 #stopdrowning'