Pursuing corporate partnerships is good for business – everyone's business – when it is done well. Today I'm looking at why strategic partnerships with business is a critical part of ending drowning and how you can identify the best partner for your organization.
Last week in the Jabari blog I encountered the wrong type of business operations.  An innovative water safety product that, it turns out, is embroiled in a fight over intellectual property and who knows what else. Everyone's worst nightmare of a partnership gone bad, the kind that makes you want to hunker down and not share information or collaborate, which slows our efforts to end drowning even more.
If you choose a good corporate partner, it can be like adding high-quality jet fuel to your efforts.
I just learned about a great collaboration between Talisman Energy, Inc. and SwimVietnam.  In Talisman's words, "We believe that the countries and communities where we live and work should benefit from our operations and that investing in those communities supports our business activities. Our corporate contributions play an important role in risk mitigation helping to ensure our license to operate improving community relations reducing security risk assisting in employee recruitment and retention and generating goodwill with home and host governments. We invest in accordance with our Corporate Contribution Guidelines."
Talisman Energy isn't just talking, they are acting. Talisman Energy has extensive operations in Vietnam. Learning that child drowning is an epidemic in flood-prone Vietnam, Talisman Vietnam provides children in grades 1 to 5 with specially made school bags that become life jackets in the event they fall into water. In the three years since they started this program, they have delivered over 14,000 life vest school bags. Recently, Talisman partnered with Swim Vietnam and Hue Help to conduct Water Safety Awareness Training at 6 primary schools in Binh Dinh, the central of Vietnam in conjunction with the delivering of the life vest schoolbags.  Even more impressive and commendable, Talisman works with a local registered supplier who invented the special schoolbag and they coordinate with local authorities, the Department of Education and Training and Talisman staff volunteer their time.
Talisman's program is the gold standard for corporate partnership in terms of understanding the problem (drowning), committing to an innovative solution (school bag/life jacket) that uses local resources (supporting the local economy) and reaches out to partners in the field (SwimVietnam) to increase the effectiveness of their program.
In the drowning prevention field, when we see collaboration it is often between other NGO's (not-for-profits), but we need to broaden our thinking. The best example of a long, fruitful and very public partnership is Surf Life Saving Australia and Westpac Bank for their Rescue Helicopter Services, at 40 years the longest partnership in Australian corporate history, and also the 10-year relationship with DHL.
It can be done. Let's look at what you need to do to develop a good corporate partnership:
Be clear on who you are and what your organization is trying to accomplish.  Don't just go after any money for the sake of it and don't change who you are just for funding, it may be a short-term fix, but it is a long-term disaster waiting to happen.
Identify corporations that have operations where you are doing business and scour their website and annual report. If they have a section on corporate responsibility or corporate giving programs, read it carefully and see if there is a potential fit. NOTE: the fact that you need money and believe in what you are doing IS NOT enough for anyone to just hand you a check.
Partnership works both ways, do the research and make sure that you are not linking with a company that is involved in unethical or illegal activities and looking to burnish their reputation with a few bucks. Take the time to find a good corporate fit – the goal is to build a lasting partnership, not a one-date disaster.
Be professional!  When you approach a potential corporate partner, be business-like. Understand that they need to know their reputation will not be damaged by partnering with you and their investment will not be squandered. Address their criteria clearly and concisely, provide backup data from respected sources, and make sure your website and legal and financial filings are up-to-date and accurate.
Understand it's a true partnership, not a beggar-giver relationship. Corporations need good causes just as we need corporate funding. There is a line-item on balance sheets called 'Goodwill'. Goodwill is seen as an intangible asset on the balance sheet because it is not a physical asset like buildings or equipment. Goodwill typically reflects the value of intangible assets such as a strong brand name, good customer relations, good employee relations and any patents or proprietary technology. Doing good can have real bottom-line implications for a company so clearly spell out what advantage it will be to partner with your organization.
Last week I talked about doing video that will go viral with a great example from Virgin America's in-flight safety video. I'll end today with a look at WestJet's now viral giving gimmick. It doesn't show a corporate/NGO partnership, but it shows how giving by a company can provide them with incredible positive publicity or goodwill. Wouldn't you love for one of these corporate videos to involve a program to end drowning? (or at least to have been on one of those flights!)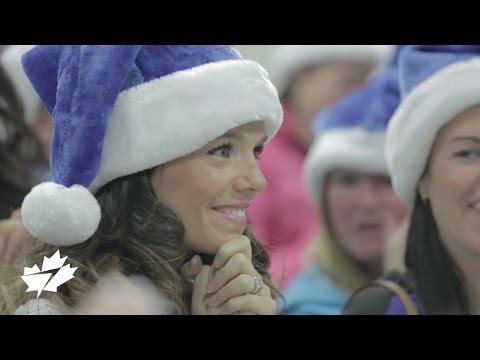 I'm taking a short break but will be back and blogging on January 8, 2014. I don't just talk about modeling behavior, I try to live it. Being a mom and being there for my kids is the most important thing in my life, so I'll be walking the talk for the next two weeks over the school holiday and not doing the usual balancing act between work and family.
Happy New Year!